Security Measures against the Covid-19

TOTAL PEACE OF MIND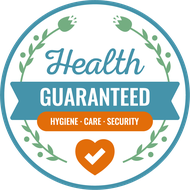 Because we have more than 100 reasons to work for your safety and well-being while you are with us, we have developed more than 50 measures against COVID-19, which strictly comply with all the protocols and recommendations of the Ministry of Health. ENJOY! That will be your only worry during your stay.
PREVENTION GENERAL MEASURES
1. Our Personnel have received training in preventive measures for Covid-19 and have the appropriate protective equipment, EPIS, in order to carry out their duties. The staff will not use uniforms outside the hotel, guaranteeing disinfection with washing in hot water at 60º C.
2. All staff will have their health monitored. Temperatures will be taken daily.
3. Communal areas will operate at reduced capacity, including the SPA Dynastic.
4. We have increased the safety distances of terrace, cafeteria and restaurant tables. This also applies to sunbeds in the poolside areas (minimum 1.5m).
5. We facilitate access to the pool and snack bar areas in all of our chain's hotels.
6. A free PICNIC service will be provided for those who would like to have breakfast or lunch on the beach.
7. Clearly marked points for hand washing services and disinfectant gel are provided.
8. We have implemented the room door opening system from your mobile.
Are you interested in consulting all the specific measures implemented in the different spaces and departments of the hotel?